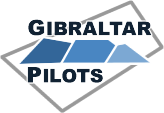 Gibraltar Pilots > Home
Headlines:
Welcome
Gibraltar is the gateway to the Mediterranean and is adjacent to one of the most important shipping lanes in the world. Currently there are seven pilots and three high-speed boats in our fleet to assist in serving the vessels visiting Gibraltar.
We are a self-administrating company, regulated by the Government of Gibraltar. Gibraltar Pilots have been serving the port of Gibraltar since the 1800's.
If you are about to or are considering entering Gibraltar waters or the port of Gibraltar then please check the services page for a more detailed look at what we can offer you and your vessel.
Last Updated May 2017
NEWS UPDATE
10th March 2016
New Pilotage Fee
With effect from 10th March 2016 there has been an increase to the pilotage fees.